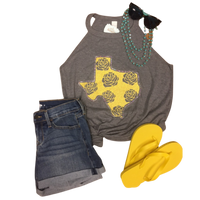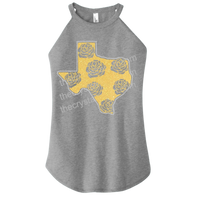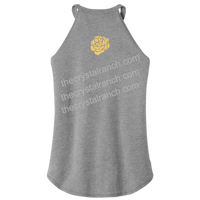 Yellow Rose of Texas RV051
Front Design is in yellow glitter outlined in AB rhinestones and the back has a small rose in yellow glitter
The Perfect Fit:  Click on any shirt in the box below to view size charts and color choices. We offer the following Fits:
 Ladies - Form fitting to softly hug your shape
Women's - Semi-Fitted, a tad more room for a Classic Cut
Curvy - Full Figured to enhance a curvy women's figure
Unisex - Not fitted, fits like a typical souvenir or concert tee
 This design is pictured 0n the Ladies Rocker Tank in gray frost
Some of the pictures show extra decorations such as ornaments or bows for photographic purposes only. This is not part of the item, and you will not receive these extra decorations.