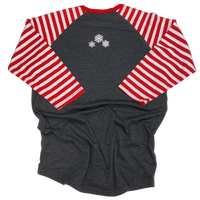 Dance Like Frosty, Shine Like Rudolph, Give Like Santa, Love Like Jesus HV120
ance Like Frosty Shine Like Rudolph Give Like Santa Love Like Jesus has aqua blue screen print with red and white glitter, accented in brilliant AB rhinestones. The back is decorated with an extra touch- 3 small snowflakes.
This design is pictured on a unisex 3/4 sleeve raglan in heather charcoal with red and white striped sleeves.