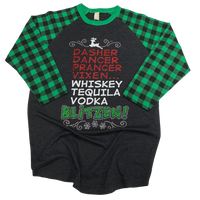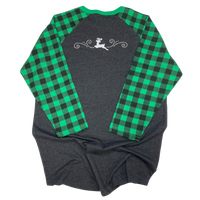 Dasher Dancer Prancer Vixen Whiskey Tequila Vodka Blitzen! HV069
Dasher Dancer Prancer Vixen... Whiskey Tequila Vodka Blitzen! has red, white and green glitter accented with Brilliant AB rhinestones. The back is decorated with an extra touch-a white glitter deer with rhinestone swirls.
This design is pictured on the charcoal grey Unisex raglan with 3/4 green plaid sleeves. Runs a tad small, we recommend ordering 1 size up.